Window Cleaning in London by The Acclaimed Experts!
94% Customer Satisfaction
Fantastic Window Cleaners offers you professional window cleaning in London and much more! Our range of services provides convenient solutions for the clean and presentable state of your property's exterior. For instance, we can help you with gutter cleaning and maintenance, or comprehensive patio cleaning.
In addition, when you opt for our fantastic approach, you are eligible to the following benefits:
Customer care service available 24/7;
You can get a free quote on any service at any time;
Flexible booking options, including weekends and bank holidays;
All work we carry out is covered by insurance;
Services for commercial properties;
The Services Of Our Window Cleaning Company
We are the window cleaning company that is always ready to help you. Our main goal is to keep your property in London in a top-notch condition. So give us a call today and get your free, personalised quote for:
Areas Covered By Fantastic Window Cleaners
If you need a professional window cleaning anywhere in London within or outside of M25, we are at your disposal 24/7. Just call us and we will make sure you get the best local window cleaners.
How The Window Washing Services Are Carried Out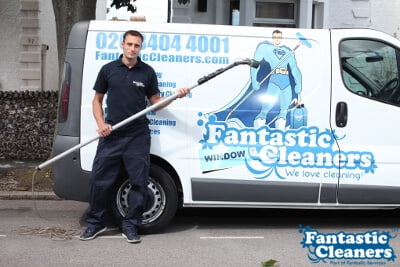 A team of window cleaners will arrive at your place with a company branded vehicle. Please ensure a free parking space within thirty metres of your property on the day the service is supposed to take place. Once our cleaners are on site, they will examine your property carefully and determine what would be the best course of action. Then they will get to work.
To reach windows on higher floors, we use a water-fed pole that can extend up to the fourth storey of a building. The cleaning is carried out without any detergents – only purified water but the result is brilliant. Your windows will shine, there won't be a single smudge on them. The window sills and frames will be cleaned as well (if PVC).
Learn More About Fantastic Window Cleaners In London
Fantastic Window Cleaners employs a team of dedicated individuals who have considerable experience. They are all vetted, insured, and professionally trained to provide you with diligent cleaning procedures for your home or workplace. The fantastic quality of the work is guaranteed. Call 020 3404 4163 to book a window cleaning service for your property. You can also make an order online via the form, request a quote or try the instant chat option.
Quality Assurance Policy
Quality Control
We follow-up after every window cleaning job as part of our Quality Policy and guaranteed satisfaction program. We ensure each customer is satisfied by having numerous quality control measures in place in order to guarantee a quality product, sparkling clean, and gleaming windows!
The procedures we have in place deal very quickly and effectively with any problem that may arise. We believe a prompt and accurate response to any questions or concerns is the key to avoiding mishaps or misunderstandings. We strive to make ourselves accessible 24/7, 365 days of the year. This makes sure that our customers receive an immediate response to any questions or additional services they require.
It's our quality control measures that give us the confidence to provide the comfort of our guaranteed satisfaction policy to our customers.
Window Cleaner Training
Our employees are trained in the use of the latest technology and most effective cleaning methods in the industry, and are well versed in proper product usage and safety procedures. We provide regular equipment upgrades for each service that we deliver. We work to instill in all of our staff the necessity of taking the time required to be meticulous in the quality of work provided to our customers.
Window Cleaner Self-Check Process
Quality assurance begins with the self-check process conducted by all of our window cleaners. This simple procedure follows each job and is the most effective measure in the elimination of oversights and the potential for a callback. Each staff member goes back over their job and inspects his or her own work to ensure it's properly completed.
Supervision and Inspections
On-site support from managers or window cleaning supervisors
Regularly scheduled inspections from a supervisor or manager
Random unscheduled inspections by senior management to ensure our level of service is maintained.
We have a Continuing Commitment to:
Ensuring that customer needs and expectations are determined and fulfilled, with the aim of achieving complete customer satisfaction
Communicating the importance of meeting customer needs and all relevant statutory and regulatory requirements to everyone within the company
Establishing the Quality Policy and completing its objectives
Ensuring that Management Reviews set and monitor the quality objectives, and report on the Internal Audit results as a means of monitoring and measuring the processes and the effectiveness of the Quality Management System
Guaranteeing the availability of resources

Copies of the Quality Policy are made available to all members of staff.

September 2014
×